Master Gardener Foundation of Washington State
Striving to provide the funding and resources to optimize the effectiveness of our people, the impact in our communities and the partnership with our University.
Our People
We invest in the continuing education of our more than 4,000 active volunteers throughout the state via our Advanced Education Conference.
We sponsor several WSU Extension Master Gardener awards to recognize key contributors to the Program. Awards include the WSU Master Gardener of the Year, Ed LaCrosse Distinguished Service, and Media awards.
Our Communities
Extension Master Gardener volunteers throughout the state answer your gardening questions and teach research-based gardening classes. Gardening for us encompasses practices that help create healthy communities and a healthy planet. We also work with youth, grow food for local food banks, and maintain demonstration gardens.
To ensure these public services from the Master Gardener program continue, the Master Gardener Foundation of Washington State financially supports the Extension Master Gardener Program.
Our University
In 1973, Washington State University Extension agents created the concept of the Master Gardener Program that has since spread throughout the United States and internationally.
We partner with WSU to continually advance the Program. We are excited to announce that together we have another first: we are working to fund the first endowed faculty chair dedicated to the WSU Extension Master Gardener Program.
It all began at Washington State University
A grassroots, sociologic movement that started at Washington State University in 1973 and was emulated across the United States and into Canada and South Korea, the Master Gardener Program is WSU Extension's flagship volunteer program.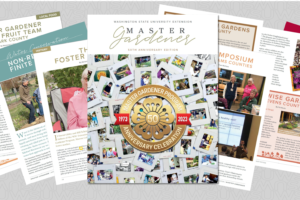 Order your 50th commemorative magazine today!
This 50th Anniversary Master Gardener keepsake magazine has over fifty full-color pages celebrating 50 years of the Extension Master Gardener Program. Read about how the program started in Washington state in 1973, current points of pride throughout the WSU Master Gardener Program, and a look to the future.
Subscribe to the new WSU Master Gardener podcast!
The Evergreen Thumb Podcast is brought to you by Washington State University Extension Master Gardener program volunteers and sponsored by the Master Gardener Foundation of Washington State.
Join us as we invite expert horticulturists, seasoned Master Gardeners, and passionate plant enthusiasts to share their wisdom, practical tips, and hands-on experiences. We'll cover everything from plant selection and care, sustainable gardening practices, organic pest control, and landscaping design to tackling common challenges specific to our region.
Commemorative keepsakes available!
New 50th anniversary commemorative items have been added to help celebrate and remember this milestone 50th anniversary of the WSU Master Gardener Program. Purchase your keepsakes and support MGFWS and the Program by visiting the master gardener store today.
The WSU Master Gardener Advanced Education Conference
The Master Gardener Foundation of Washington State partners with WSU to host the Advanced Education Conference to further the education of Extension Master Gardener volunteers on topics important to the environment in our State. The Conference is open to the public.
WSU Extension Master Gardener Annual Awards
The Master Gardener Foundation of Washington State sponsors three prestigious annual awards given to recognize outstanding individuals who have made significant contributions to the WSU Extension Master Gardener Program.
Interested in learning more?